Following a great deal of planning The Weighton Waytes completed a Choral Pilgrimage to Holy Island in Northumberland. Commencing on 5th September 2015, the four day tour fulfilled a long standing ambition held by our Musical Director, Mrs Carole Readman an ambition which was both spiritual and musical. Because of work and family commitments, it was not possible for the whole choir to take part in the tour. However the fifteen choir members who took part shared a unique fellowship and enjoyed the experience tremendously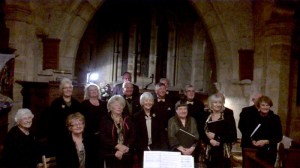 The Choral Pilgrims singing in
St Cuthbert's Church, Norham, Northumberland
No one who visits Holy Island can fail to feel what a magical and mysterious place it is. The watching and waiting for the tide to recede, the crossing of the causeway with the sea lapping close to your vehicle all adds to the awesome feeling of isolation of this ancient and special place.  To then have the opportunity of singing in the ancient  Parish Church of Saint Mary the Virgin was an amazing privilege. This wonderful Church is reputed to stand on the site of the original monastery founded by St Aidan in 635AD. Parts of the structure date back to the 7th century, several hundred years before the appearance of the nearby Priory.
The Choir sang the anthem "Holy Lord of Hosts" during the morning Communion Service and then in the afternoon sang a programme of sacred music from their repertoire. Music performed included:  Ave Verum; Down to the River to Pray; If ye Love me; On eagle's wings as well as Agnes Dei and Trinity which were composed by Mrs Readman. There were also vocal solos by Lucy Bates and The Reverend Peter Nelson.
Because the Parish Church is an ancient monument it is also open to the public and the Choir were delighted that not only were there were many people wandering about the Church during the performances but a good number decided to sit a while and enjoy our music.
Work commitments meant that some choir members returned to East Yorkshire after the Sunday performances. Thirteen members were able to stay and they went on to perform concerts in  Holy Trinity Church, Berwick-upon-Tweed; St Cuthbert's Church, Norham and St Michael's Church, Ingram nr Alnwick. Each of these concerts were enthusiastically received by the local audiences with many requests for the Choir to return in future years.
The first Choral Pilgrimage was obviously considered to have been successful as The Weighton Waytes have been invited back every year since and the pilgrimage is now considered to be an important and essential part of their annual programme.
In 2019, the programme of events in Northumberland included performances in The Parish Church of St Mary on Holy Island as well as St Cuthbert's Church, Norham again as well as an impromptu "Flash Mob" performance at Brinkburn Priory, Morpeth.  The Waytes sound was enhanced by visiting soloist  Edwin Lambert, who is a chorister at York Minster and whose proud Mother, Linda is a Waytes member.
As usual, the  joyful and friendly demeanor  demonstrated by The Weighton Waytes was commented on and enhanced the musical pleasure felt by those who listened. Indeed, our Musical Director, Mrs Carole Readman is already planning a repeat journey in May 2020!
Video recordings of some of these 2019 concerts can be found on Facebook by searching for "WeightonWaytes" which will bring up the various clips which are labelled as WW.BP1; WW.BP2; WW.NRM1 and WW.NRM2.
Other recordings can be found here:
Video Clip "You raise me up!"  St Cuthbert's Church Norham
Video Clips  "Agnes Dei" by Carole Readman and Ave Maria at St Michael's Church, Ingram