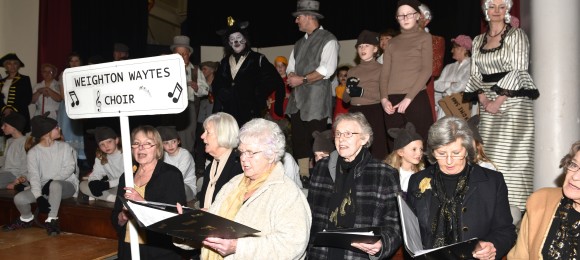 This year, for the first time, Weighton Waytes were invited to become part of the cast in a Community Pantomime performed at The Market Weighton School.
Produced by The Market Weighton Community Players, this years show is that old favourite "Dick Whittington" although how a bunch of local "Yorkshiremen", cyclists from "Le Grand Depart"  and Weighton Waytes got to feature in the storyline initially seems to stretch expectations somewhat. Audiences needed have no fear however as skilful drafting by Producer Bob Long and his script writer Rosemary Waugh successfully knitted the plot together resulting in typical mayhem and a great many laughs for everyone, audiences and cast alike.
For their part, The Waytes played themselves but who had unfortunately had a transport mishap at a concert in Grimsby requiring them to walk all the way home. It was on this journey that they encountered the rest of the panto cast.
It is fair to say that The Waytes performed remarkably well in an environment which was new to so many. They coped well with marching down the hall and interacting with the remainder of the company. So much so that The Waites will be appearing in the next production by The Market Weighton Community Players. ( see below)
Members of Weighton Waytes at Pantomime rehearsal with Carole Readman at the keyboard.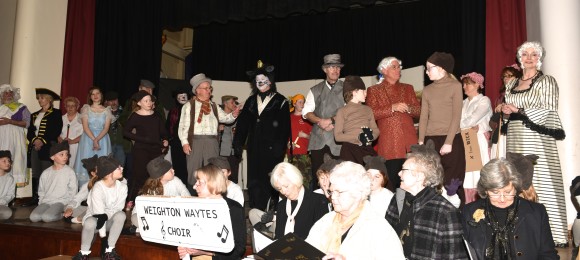 Members of Weighton Waytes enjoying Panto rehearsal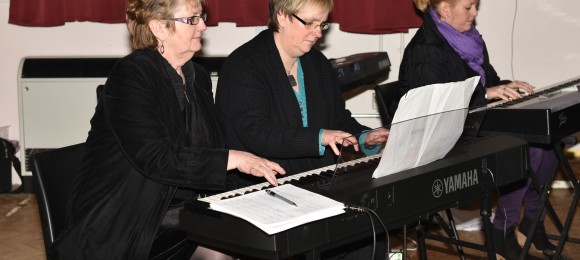 Carole Readman sharing the keyboard at Panto rehearsal