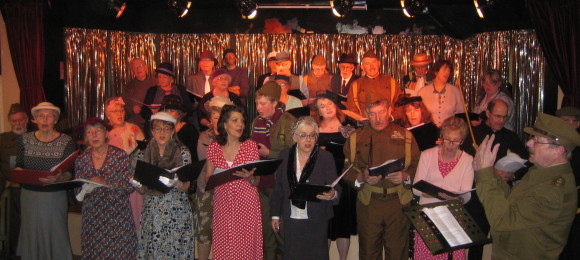 They say that you cannot have too much of a good thing, well, it seems that our local town, Market Weighton thought so when a production of Dad's Army episodes was a sell out for the second time in just over one year.
Once again The Players were supported by members of the Weighton Waytes who sang in glamorous period costume as the Walmington-on-Sea choir. This gave The Waytes Musical Director, Carole Readman an opportunity to again demonstrate her acting ability as she tussled with Captain Mainwaring (Nigel Botting) over possession of her conductors baton.
The Market Weighton Community Players once again staged three performances of two episodes of the much loved TV show at the Market Weighton Social Club in the town with the same cast as before. The episodes were: "The Deadly Attachment" where Captain Mainwaring and his men are required to keep a German "U" boat crew overnight in the village hall and featuring the immortal line: "Don't tell them your name, Pike."
The second was "The Godiva Affair" where the Troop practice as Morris Dancers and get embroiled with a beauty pageant to find a local girl to parade as Lady Godiva in a village fund raising fete – with hilarious results.
The evenings culminated with a performance of a short episode never broadcast on TV. "The Floral Dance" depicts Mainwaring and the Troop taking over the local choir for a memorial concert.
Director John Heaton said: "Working with The Market Weighton Community Players is very rewarding and great fun. They are a very talented team and completely without egos. It is such a refreshing change from many dramatic societies.
As Walmington-on-Sea Choir, The Waytes entertained audiences during the show and included the following songs:
The Floral Dance
Bye-Bye Blackbird
Goodnight Sweetheart
Don't sit under the apple tree
Sing Sing Sing
Sway
As time goes by.
Melody of Wartime songs