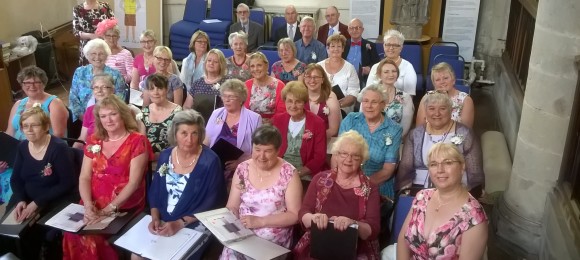 The Weighton Waytes Choir are frequently invited to sing at local weddings and, as one could imagine they are a booking that the lady members very much enjoy. When the wedding in question is in the family of a choir member then the enthusiasm and enjoyment reaches a high level indeed, such are the relationships within the group.
Such an occasion occurred recently when Jodi, daughter of choir members Ann and Peter Warner was married at All Saints Church, Pocklington. In a break with tradition, the Brides' Mother, Ann, requested that the choir wear summer clothes rather than their normal black and gold. Ann said: "The weather was kind and gave us a wonderful English summers day and the choir looked fantastic and added something special to our special day". A further and unique aspect of this wedding was that it was conducted by The Reverend Peter Nelson who is also a member of The Weighton Waytes
The Choir have a selection of songs chosen by Musical Director Carole Readman and she offers to a prospective bridal party. Jodi, the Bride on this occasion selected the following for her wedding:
Love changes everything; Fields of gold; If we hold on together; Unchained melody; Time for Enya; I am a small part of the world; For the beauty of the earth; The glory of love. 
In addition, of course, the choir greatly added to the quality and volume of the hymns used in the service.
Photograph depicts members of The Weighton Waytes at All Saints Church, Pocklington